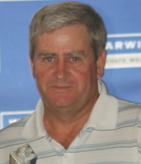 Phillip Bierman 2012
The Players' Championship for Senior Amateur players was the brainchild of Philip Viljoen, one of the senior players. He had the vision of a prestigious tournament for the top senior amateurs in the country and to treat them like royalty, whilst playing a tough championship course. Through tremendous dedication and hard work, Philip managed to put it together and raise the required sponsorships to stage this annual event.

The first Players Championship took place in 2012 at the Pecanwood course, where Phillip Bierman, shown on the left, won the trophy. The winner of the 2013 event was Peter van Coller, pictured on the right. Lynton Beckett (bottom left) was victorious in the 2014 event. Morgan Phillips (bottom right) collected the silverware in 2015.

The setup of the course will be fair and challenging according to the aims of the tournament, and the seniors from all over the country will have to be careful not to come unstuck on the top championship course in the country!

The organisers and players hereby also want to convey their sincere appreciation to their loyal sponsors, PriceWaterhouseCoopers and North West Golf Union, for their valuable contributions. Without their support this tournament was not possible.


Peter van Coller 2013